New Patients at
Integrity Health and Wellness of Columbus
For our littlest patients, sitting in the doctor's office can be boring. Moms often have their hands full with children and home activities. We believe telephone consultations prior to your first visit just make sense at
Integrity Health and Wellness of Columbus
.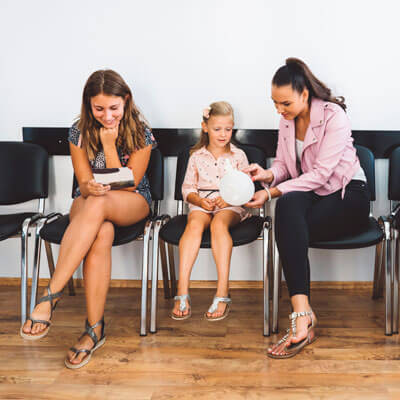 Before You Come In
Prior to your first visit, we'll email the registration materials. Filling out your intake forms before having a conversation with the doctor helps move the process along. When you visit the doctor, he may have further questions about the information provided. Please bring your ID and insurance card, and wear comfortable clothes.
If your visit is the result of an automobile accident or personal injury, please bring all claim documentation.
Your First Visit
At the office, we'll complete your registration and take you back to the consultation room.
Dr. Eric
will do a thorough physical exam, including scans. If there is a need for X-rays, you will be referred to a nearby facility. This visit will last approximately 30-40 minutes, if paperwork is completed beforehand.
This visit is for the report of findings. Dr. Eric will go over the test results with you and let you know what's happening in your body. He'll discuss his recommendations for care, and explain what needs to happen going forward. Any questions you have will be answered at this time.
Your care plan will detail how long it will take to observe results and the frequency of your visits. Dr. Eric will also discuss the cost of treatment. If you decide to proceed, you'll receive your first adjustment today. Your health care is always your decision.
Today's visit will be about 30-40 minutes.
Our fees are comparable to other practices in the area. We never want you to delay care because of cost. We'll work with you to make your treatment affordable.
We accept most major insurance; credit cards and HSA plans are also accepted. Please contact our staff for further information and assistance.
Ready to Book your Visit?
We'd love to have you join our practice! Let us help you get healthy, so you can enjoy life again. Start today; contact us for an appointment at (614) 865-1999.
Contact Us
---
New Patients at Integrity Health and Wellness of Columbus | (614) 865-1999